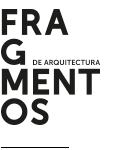 FRAGMENTOS
About: Fragmentos began in 1994 while the 4 partners were still architecture students. Many influences remain with us from that time; it could be said that Fragmentos is a project put together by a group of friends that went on a gain recognition in the market place. Today our team is composed by 17 Architects, 1 Civil Engineer and 1 Assistant. Our work is carried out transversely, touching upon different architecture areas, Our projects involve more than simply developing the architectural design, as increasingly, our clients require an able support team to take them from the creative design phase through to delivery of the finished product. We are a complementary team of architects, who although are different, share a set of common values. We believe that sharing experiences inspires us to design; each of us is part of a whole that is Fragmentos.
The internship is available for 1 student during July – August (8-10 weeks)
Intern Responsibilities: as we have several projects being developed in Lisbon, the student will be able to follow different project phases: from developing concept/ ideas to visiting the construction site. Be part of the concept process, prepare a presentation, understand the legislation constraints about building on a specific site, and visiting a construction site, are some of the tasks we'll help the student to be involved in. A complementary vision of the whole process. By the end of the internship period the student should be able to distinguish each phase of the architecture process and understand the different timings each phase has to respect.
Qualifications: students interested in Architecture and Design should apply. Work responsibility will depend on classes taken and general knowledge and experience in these fields. Preference will be given to students who work with 2D and/or 3D modelling software (Autocad, Archicad, Revit, Sketchup or other similar) as well as graphic design programs (Photoshop, Ilustrator, Indesign or other similar).

STUDIO ASTOLFI
Joana Astolfi (b. Lisbon, 1975) is an artist, architect and designer who draws visual inspiration from a broad universe of found objects. Porcelain statuettes, miniatures, vintage chairs, lamps, toys, diaries and photographs of people she never met populate and shape her creative vision. Her artworks, installations and window displays are inspired by imperfections, mistakes and the irrepressibility of humor.
Starting from Joana's creative vision, Studio Astolfi is a team of artists, architects, and technicians who specialize in telling stories, evoking memories, and captivating the curiosity of our audiences.
Studio Astolfi, declare our intention to cooperate with selected Universities to implement a Student Mobility for Traineeships aimed at: Architecture, Interior Design and Crafts
Involving 1 students each year from selected Universities enrolled in Undergraduate Degree, spending 8 to 10 weeks, placement period at Studio Astolfi Lisboa.
It is desirable that selected students have oral and written knowledge in Portuguese, although it is not mandatory. Placements should occur between May to August each year.